Blank Polo Tshirt 100% Polyester Moisture Wicking Polo Men JMPOOLO43
The Detail
Size & Fit
Delivery & Service
Highlights
●Front chest pocket
●Moisture-wicking fabric
●COOL MAX
●Quick drying
●Zipper collar
●Classic design
●Sustainable materials
●Neat car line
Made In China
Composition
100% polyester mesh
Washing instructions
machine wash warm gentle
do not use chlorine bleach
iron at medium setting
do not dry clean
Designer Style ID
JMPOOLO43
Wearing
The model is 174cm-178cm in wearing size M
Description
It's quick drying, breathable and comfortable. It's suitable for many occasions.
·Made of COOL MAX fabric with quick drying.
·With its outstanding quick drying property, it is less likely to produce a sticky feeling of skin.
·It is made of mesh fabric with exquisite weaving technology, which has air permeability.
·With gentle skin touch.
·Suitable for sports, leisure and other occasions.
Advantages of polyester fabric
Polyester fiber is a kind of synthetic fiber fabric, commonly known as "polyester". It has the characteristics of wrinkle resistance and shape retention, and has the advantages of high strength and elasticity recovery in fabric. It is commonly used to make men's and women's shirts, coats, children's clothes, indoor decorative fabrics, carpets, cotton wadding, etc.
1. easy to clean
Polyester fiber has the advantage of easy cleaning. The clothes made of polyester fiber can be cleaned in clean water, but do not directly wring and iron at high temperature. Put the clothes directly in the natural environment to dry and avoid direct exposure to the sun.
2. thermal insulation
Polyester sunshine fabric has good thermal insulation performance that other fabrics do not have, greatly reducing the utilization rate of indoor air conditioning.
3. corrosion resistance
Clothes made of polyester fiber can resist bleaching agents, oxidants, hydrocarbons, ketones, petroleum products and inorganic acids. It is resistant to dilute alkali and mildew, but it can be decomposed by hot alkali.
4. pest and mildew prevention
Clothes made of polyester fabric are not afraid of mold or moth, and the fabric will not mildew after a long time.
5. good elasticity and wear resistance
The elasticity of polyester fabric is close to that of wool. When the elongation is 5% ~ 6%, it can almost completely recover. Wrinkle resistance is better than other fibers, that is, the fabric is not wrinkled, has good dimensional stability, and is also wear-resistant. Its wear resistance is second only to the best nylon, which is better than other natural fibers and synthetic fibers.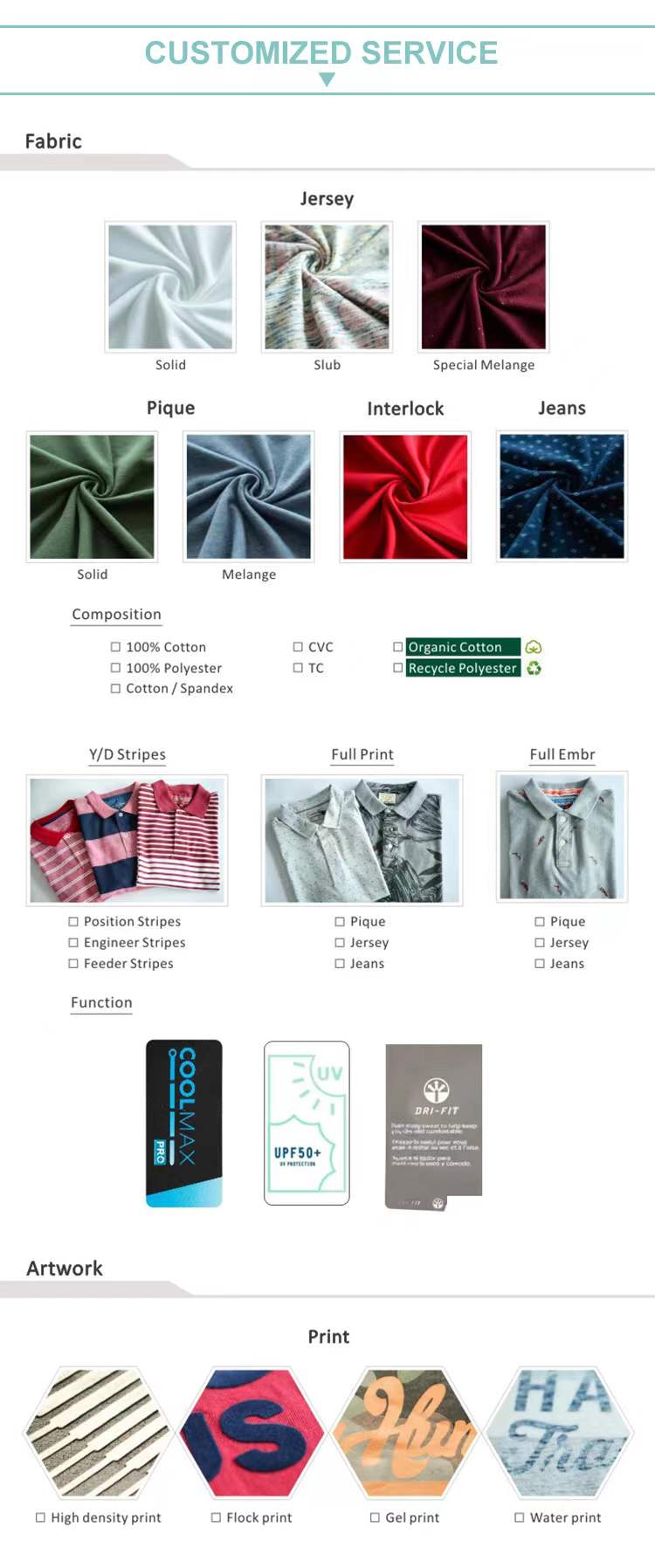 ---
---
Fitting Information
● This piece fits true to size. We recommend you get your regular size
● Cut for a relaxed fit
● Made with a mid-weight fabric(200gsm)
Measurements
| | | | | |
| --- | --- | --- | --- | --- |
| Size | Length | Chest | Sleeve Length | Shoulder |
| S | 69.5 | 49 | 22 | 43 |
| M | 71 | 52 | 22.5 | 45 |
| L | 72.5 | 55 | 23 | 47 |
| XL | 74 | 58 | 23.5 | 49 |
| XXL | 75.5 | 61 | 24 | 51 |
Delivery:
We can delivery goods by air, by sea & by express, or following your nominated forwarder's shipping instructions.
Service:
We focus on offering full package of servise to clients and keep building up our strength on fabric souring, style design and garment manufacturing. For each customized product, we can provide free servise of photos and videos